What It's Like to Leave Your Family Behind to Pursue a Dream Job in Silicon Valley
This software engineer from India gave up everything he knew to secure his family's financial future.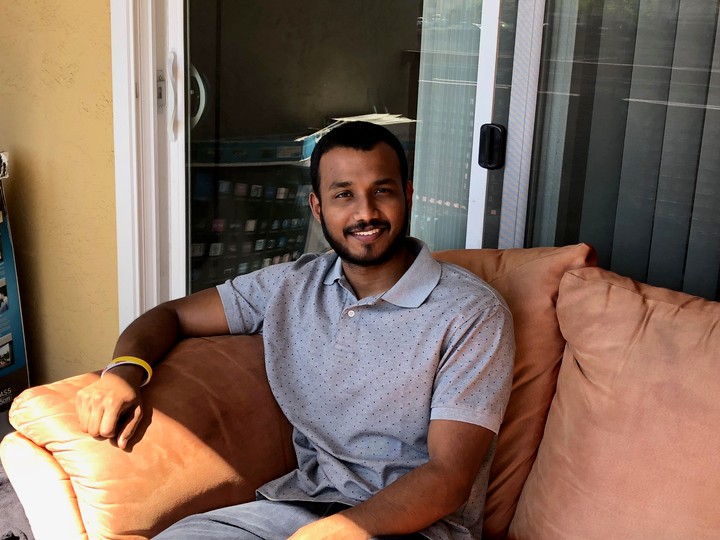 Photo courtesy of Srinath Kattula
When Srinath Kattula flew to the United States in 2014 to get a master's degree, it wasn't just his first time on a plane. It was also his first time away from his family in the South Indian state of Andhra Pradesh. But after his mother died from lung cancer in 2009 when Kattula was 16, he become determined to change his family's economic fate for the better―even if that meant moving across the globe.
During his mother's three-year illness, the family had to sell their house to cover medical costs and move into a rental. "I was right there when we sold the house," Kattula says, adding, "We really loved the house." His brother, who is five years older than Srinath, decided not to pursue an advanced degree so he could work instead and help pay the bills for her care. "He had to sacrifice. There was no way he could go on for a master's degree," Kattula says.
"We fought very hard for my mother's treatment," he adds.
Finding purpose after a devastating loss
Seeing his family lose so much inspired Kattula to change his family's financial fate. "I wanted to make sure I would be the driving force economically for the family," he says.
Kattula was a whiz at computer science―he says he graduated in the top five percent of his undergraduate class at Gayatri Vidya Parishad College of Engineering in his hometown of Visakhapatnam. But salaries in India for engineering jobs typically pay just $15,000 (or 10 lakhs) versus over $100,000 in America. So he applied for advanced degree programs in the U.S., where nearly 200,000 Indian nationals attend school each year, second only in number to students from China.
Kattula was accepted to a master's degree program in computer science at Northern Illinois University in Dekalb, Ill., got a F-1 student visa, and won a full tuition scholarship plus a $1,300 a month stipend as a graduate teaching assistant. But even a full scholarship didn't cover all his expenses. So his already financially-strapped family took out a bank loan of $10,000 to cover things like entrance exam and application fees, the flight to the United States, and the deposit on his apartment, which he shared with three other students.
There was a personal cost as well. Once he got to the university, "I was feeling lonely fifty percent of the time," he says. The hardest part was during meals, when he usually ate alone instead of with family like he did back home.
When everything falls into place
Things started looking up when Kattula landed an internship in the summer of 2015 at Facebook, which paid $8,400 a month (plus free housing) and enabled him to pay off the loan from his family. "It was a dream company," says Kattula, adding that he applied for the job directly on the Facebook website the fall before he started the job and took other interviews beforehand at "moderate level companies" for practice.
While Kattula credits older friends and classmates for helping him along the way with everything from learning the fundamentals of computer science to writing his "statement of purpose" for admission to American schools, he says he also relied heavily on the question and answer site Quora to figure out how to land a summer internship in Silicon Valley and how best to prepare for interviews at places like Amazon, Google, Linkedin, and Uber.
He landed his first full-time job in March 2016 at the mobile gaming firm Machine Zone in Palo Alto, but failed to win one of the 85,000 H-1B visas available to foreign workers in the U.S. each year. That's not surprising considering that in 2016 some 236,000 people applied for the highly coveted work visas, which last for up to three years and are randomly selected in a lottery process each April. Companies often sponsor H-1B visa workers for permanent residence, putting them on a path to citizenship.
"I was very much worried. The most worried thing was if I had to go back to India." Kattula says. But since he was still allowed to work under the terms of his student visa, he could stay at his job and apply again the next year. His employer at the time, Machine Zone, handled the cost and paperwork―which can be up to $7,000 for filing fees alone.
As luck would have it, Kattula won the H-1B visa lottery in 2017 and was able to pay for his family's new home the same year. "That was very emotional for me," he says. Now at digital payments startup WePay, where he says he earns more than $100,000 a year as a software engineer, the 25-year-old saves 30% of his salary (including 401(k) contributions), sends money to his family in India, and finally bought a car, a Honda Accord, instead of carpooling to work. "Until last year, I was very careful with my money," he says, adding that he didn't make his car purchase until he got his work visa. He's been home once since he first arrived in the U.S., and rarely takes time off from work.
The work visa process gets tougher
And while Kattula is living the Silicon Valley dream, along with tens of thousands of other Indian nationals holding H-1B visas, there is growing concern that such opportunities may be tougher to achieve.
In order to get approved for an H-1B visa, a foreign worker must demonstrate that they are qualified for a specific job opening in a specialty occupation that requires at least a bachelor's degree. Indian nationals have long been the biggest beneficiaries of the program, with 74 percent of all approved petitions going to them in 2016. Approximately 15% of Facebook's employees hold H-1B visas, according to a 2017 Reuters analysis.
After Donald Trump took office in 2017, U.S. Citizenship and Immigration Services began challenging visa applications at a dramatically higher rate. Requests for evidence that a petitioner is qualified to fill an existing job in a specialty position increased forty five percent last year, Reuters reported. Such requests can delay visa processing by as much as five months, said Annaluisa Padilla, president of the American Immigration Lawyers Association.
The number of petitions accepted each year cannot change without Congressional action, but getting final approval after winning the lottery is "much more difficult and all of these non-immigrant visas [including the H-1B] are going through what the administration is calling extreme vetting," Padilla added.
"H-1Bs for Indians has certainly been scrutinized harder," said Padilla. Uncertainty over the H-1B's future may have led to a recent decline in applicants, with just 190,000 applying in 2018.
Advice for others looking to follow in his footsteps
Securing an H-1B, on the other hand, is often the first step toward permanent residence in the U.S. and having a real shot at the American Dream.
Asked if he has any advice for others looking to follow in his footsteps, Kattula suggests seeking out advice from older students who have already figured how to navigate the application process. "You could just ping someone on Linkedin," he says.
And while it's easy to get discouraged along the way, since "you will have a lot of failures," Kattula advises anyone with a big goal to always remember that "hard work beats talent any day."
Follow Anita Hamilton on Twitter.